Co-developing innovative solutions for the food industry
AAK is an international, publicly traded company listed on the Stockholm stock exchange, and is known across the globe for its plant-based oils and fats. It was founded through the merger between Danish company Aarhus oil and the Swedish Karlshamns in 2005 and has been taking the food industry by storm ever since. The company is active in many food and non-food industries, comprises 20 factories in total, and provides jobs to over 3,300 employees worldwide.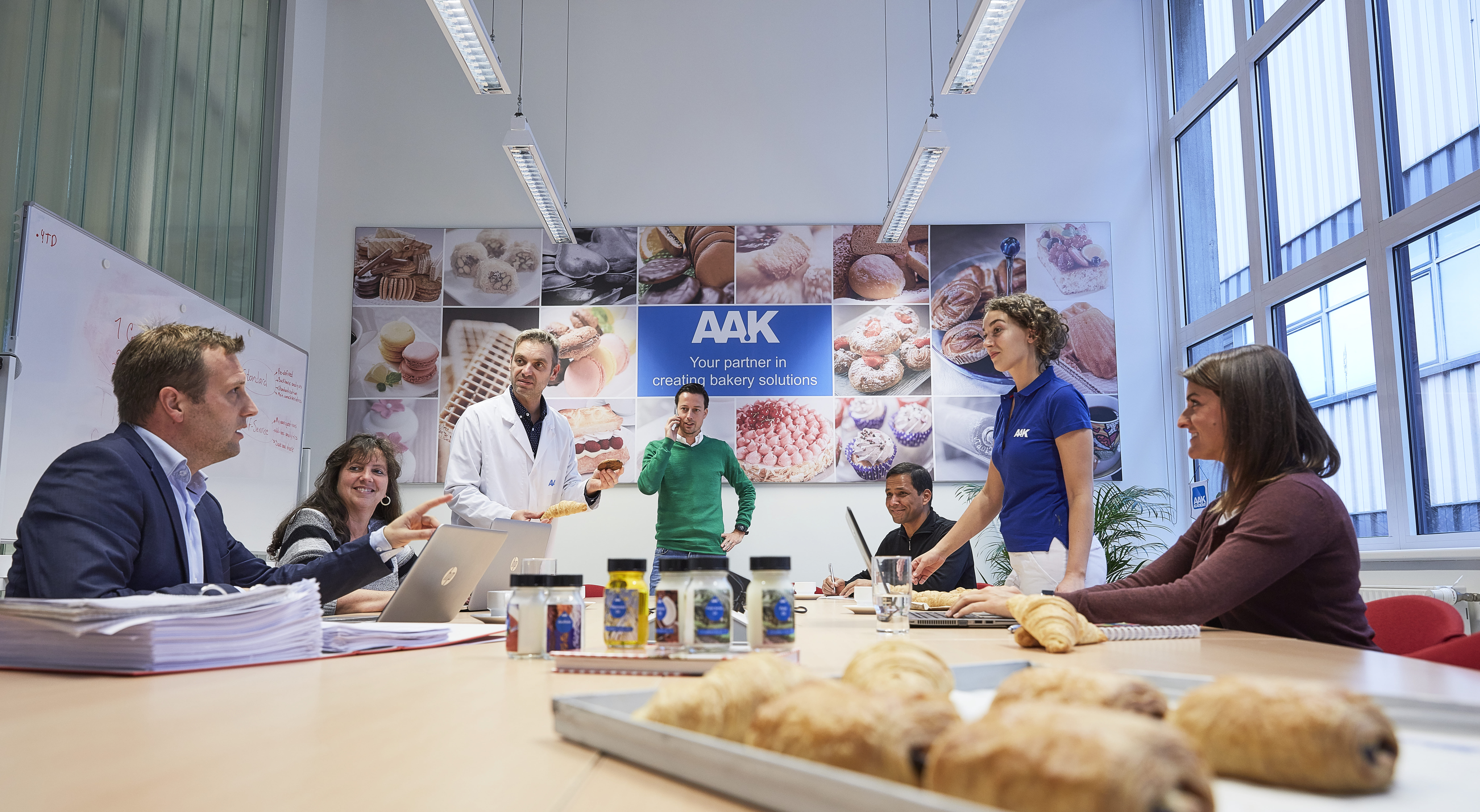 The Co-Development Company
AAK is known for its unique co-development practices. The company develops enriching vegetable oil solutions in close collaboration with customers, in order to achieve long-lasting business results. To do so, AAK's state of the art R&D departments – with multi-disciplinary teams of experts across the globe, each with their distinct specialties – are heavily involved in creating those solutions.
The company also offers Academies: sessions where they gather customers within a certain industry at one of their innovation centers across the globe. The Belgian innovation center - located in Merksem - is equipped with a unique pilot plant and bakery unit, where innovative products are developed and presented to customers and prospects.
Sustainable sourcing of vegetable oils and fats
Responsible sourcing of raw materials is fundamental to AAK. Palm oil - being the highest volume as well as the most productive vegetable oil in the world - is a crucial raw material. Therefore, producing it sustainably is of utmost importance. 97% of all palm oil used can be traced back to the mill origin and a strong target to source only from RSPO members is in place.
Empowering women through shea butter
Shea is gaining a strong interest as an alternative to palm products. Though it is known primarily for its use in cosmetics, shea has become popular in the food industry. AAK has over 60 years of experience sourcing shea kernels from West-Africa. The company works with women's groups to ensure fair compensation and a short supply chain. They offer the local community a guaranteed minimum price, pre-financing programs and women's and children's education. On top of that, the company has complete control over the entire production chain, which significantly increases transparency throughout the production process. Over 250 local AAK employees are involved in these local operations and logistics.
The latest in logistics
Speaking of logistics: the company fleet is another important aspect of the company's pursuit for innovation and sustainability. Their latest trucks deliver both solid and liquid products more efficiently and are multifunctional in use. These new vehicles are a noteworthy link in AAK's logistical structure, but they are just part of the company's logistical efficiency efforts. E.g. many of AAK's (often multi-disciplinary) factories are located close to seaports for easy access, and the company is in constant communication with logistics partners, warehousing partners and suppliers to actively improve and optimize the elaborate logistical flow.
Markets and trends
Today's customer is very much concerned with more healthy, sustainable and E-number friendly products. Flexitarianism is on the rise and customers actively seek out local, sustainable and organic products that can be traced back all the way to the source. To respond to these market trends, AAK and its customers are heavily investing in plant-based alternatives to butter, cheese and whipping cream. Additionally, the company is also looking to expand even further into chocolate and confectionary, as well as bakery products, and actively continues to invest in sustainable multi-oil practices, as it does today.
Geographically, business is booming as well, with AAK acquiring companies and building greenfield factories in South-America, North-America, and Asia in a conscious effort to maximize its global reach.
A bright future
AAK's ambition manifests itself in many distinctive ways. Think, for example, of their quest for continuous growth through innovation in the production of shortenings, margarines, filling fats, and multi-oils for the bakery, chocolate and dairy industry. They not only aspire to be the first choice in all plant-based oil needs worldwide, they want to forge valuable and lasting partnerships that create true value for all parties involved.
This goes beyond expert advice and technical support. AAK will go as far as co-financing pumpable shortening tank storage facilities at customer sites and deploy their own engineers to actively help the customer in creating the best possible storage facilities for plant-based oil products. The future will be co-created, and AAK is already making it happen today.