The Ceval brand has been baking sugar-free speculoos and low-sugar biscuits since 1979. After biscuit producer La Confiance took over the brand a few years ago, the company continued this production with respect for the original recipes. Meanwhile, the company worked on a new look-and-feel for the range, writing a new chapter in its sustainability story.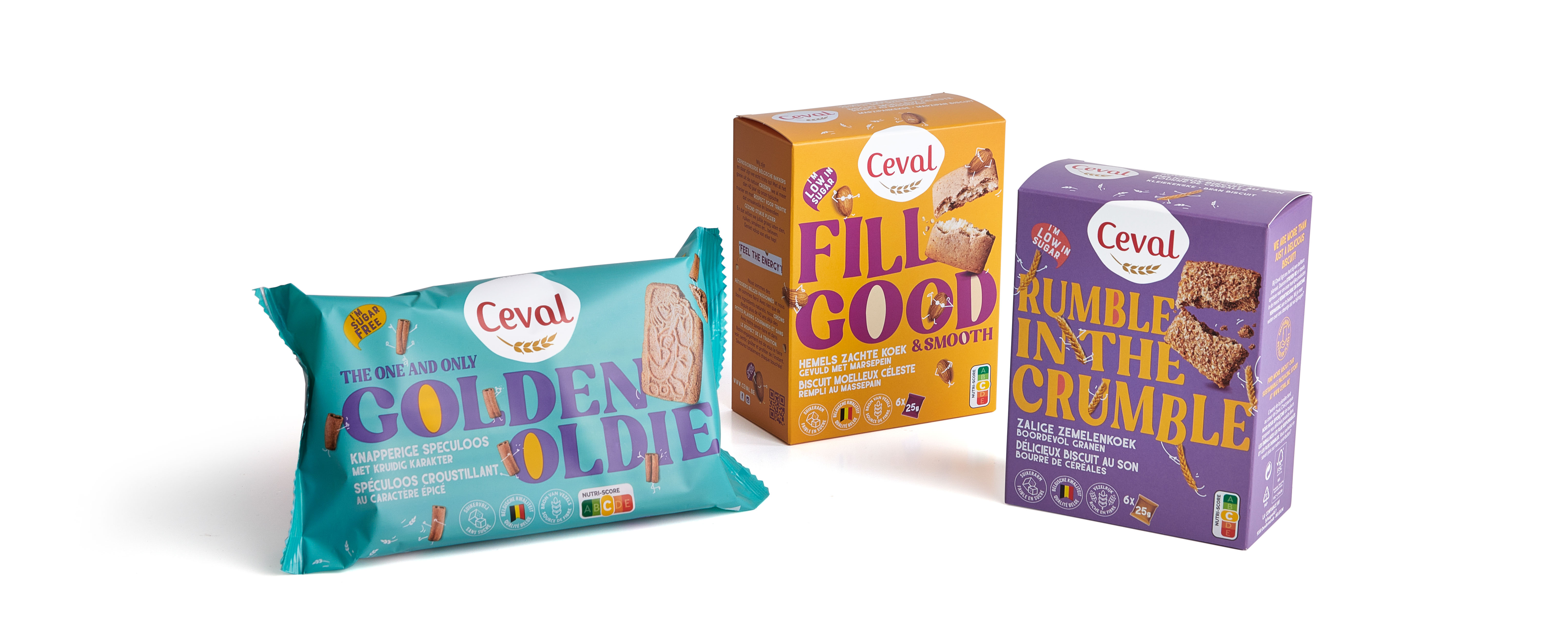 Less sugar and more fibre
For the past 43 years, Ceval has created biscuits that are not only tasty but also contain less sugar and more fibre than the common snacks. The range includes sugar-free or low-sugar treats suiting a balanced lifestyle. 
"Consumers are becoming increasingly aware of the importance of healthy eating," explains manager Leo Borms. "The Ceval range is there for everyone who opts for a balanced diet. The biscuits offer a healthier alternative to the average biscuit and are packaged individually so you can easily take them to school or work. The range also appeals to athletes because it is high in fibre, therefore, will give longer-lasting energy. Finally, it also offers diabetics a tasty and sugar-free alternative."
After all these years, it was time to give the Ceval brand a new look. Balancing enjoyment and taking care of yourself gives energy, which is why the new design radiates so much positivity. It is colourful, contemporary and with a wink. 
Local raw materials and less packaging
Moreover, with this, the company is also writing a new chapter in its sustainability story. La Confiance buys its raw materials from local suppliers and all biscuits are baked and packaged in the bakery in Dendermonde, a city in East Flanders. 
The modified packaging reduces the amount of cardboard used for each product by no less than 25%. With the sugar-free caramelised biscuits, the cardboard box even disappears completely because the foil, which always airtight wraps the biscuits, will be printed from now on. Leo assures: "The packaging shrinks, but the content doesn't! Each pack remains the same weight, only now the packaging fits better around the biscuits."
More efficient packaging also optimises transport. "We can now pack 50% more cases in a cardboard box in general and in particular twice as many packs of speculoos. So, remarkably more biscuits on a pallet and less space needed in the truck. In that way, we are reducing our carbon footprint too."