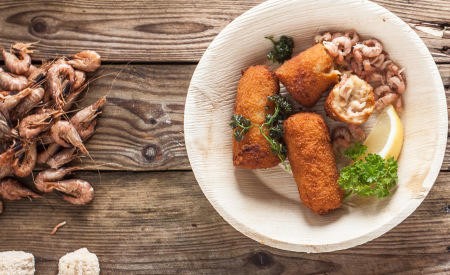 BE Delicious is a new joint initiative of a number of companies and individuals who want to promote the Belgian food culture around the world via a number of typical Belgian products like shrimp croquettes. Shrimp croquettes ? Yes indeed! You might never heard of a shrimp croquette but it is a unique and well known product in Belgium. Beer, chocolate and waffles are already typically associated with Belgia cuisine and BE Delicious aims at reaching that same status for shrimp croquettes, in Belgium and abroad    
BE Delicious wants to bring together different food sectors and companies – small and big, industrial and artisanal – to work together to promote local quality products. The shrimp croquette is an ideal dish for tourists to become acquainted with the rich food culture and hospitality of the Belgian coast region and other local products. Working together to move forward together in a stronger way is BE Delicious' motto !      
BE Delicious also has plans to promote the shrimp croquette abroad as a delicious Belgian product. Belgian cuisine is an important asset which needs to be promoted better abroad. In that way the shrimp croquettes and associated local products, like Belgian beer, will contribute to Belgian exports of food worldwide.    
Want to know more? Take a look at www.bedelicious.be/en