Belgian chocolate is known at home and abroad as a high quality product. However, in addition to the best quality, consumers of Belgian chocolate also need to be able to count on the maximum sustainability of the product. The Belgian chocolate and retail sector, civil society, social impact investors and universities have the joint ambition to make Belgian chocolate even better and more sustainable. Under the impetus of the Belgian Minister for Development Cooperation Alexander De Croo, they signed the Beyond Chocolate partnership for sustainable Belgian chocolate.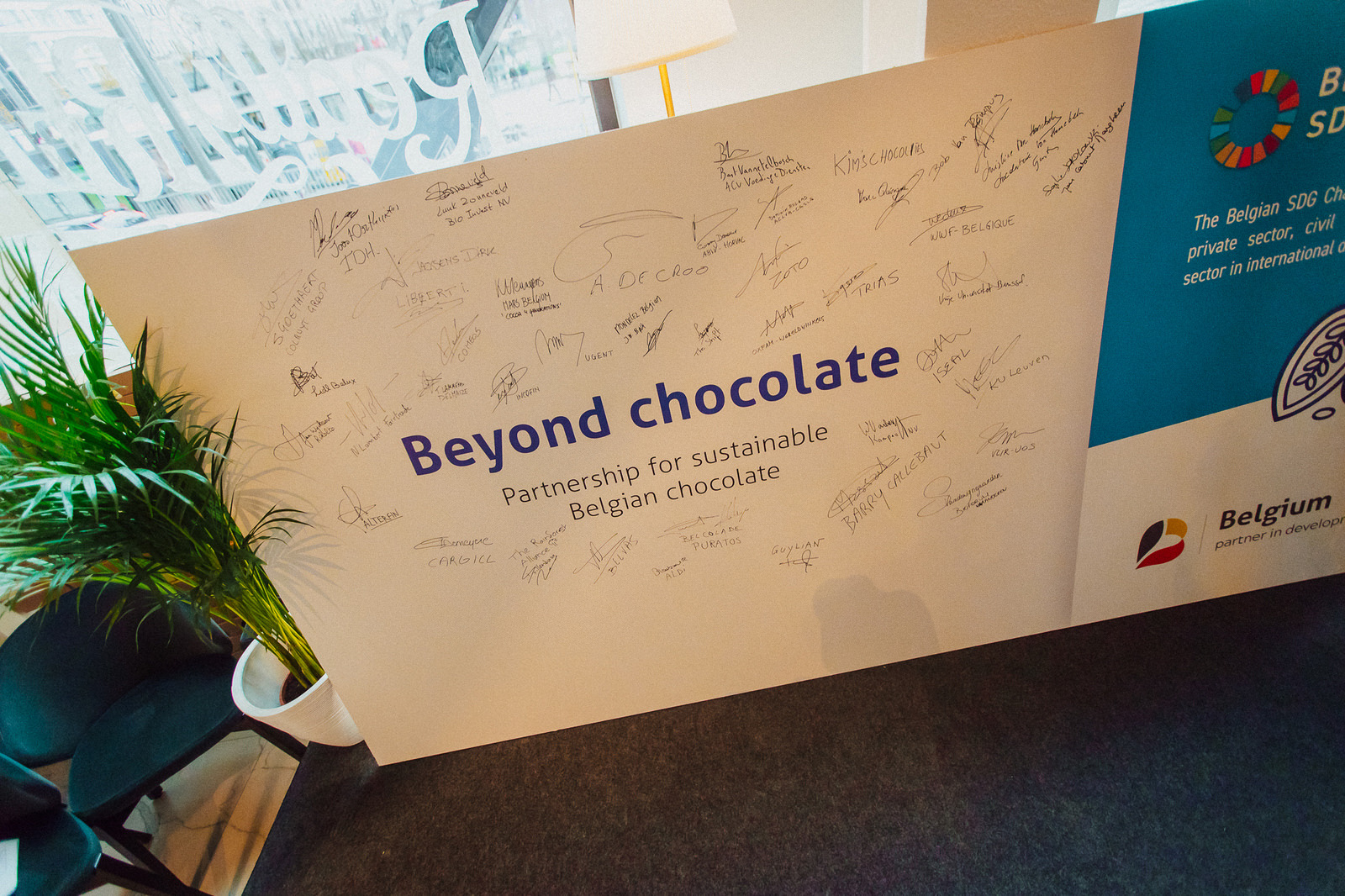 Beyond Chocolate builds on the Belgian SDG Charter for International Development. It was launched two years ago and brings together the private sector, civil society and government around the 17 Sustainable Development Goals of the United Nations.
With their signature, they commit themselves to tackling child labor, combating deforestation and ensuring a living income for local cocoa producers. In concrete terms, this means that all Belgian chocolate produced or traded in Belgium meets a relevant certification standard or is produced with cocoa products from company-specific sustainability programmes by the end of 2025 at the latest.
Jos Linkens, President Choprabisco, the Royal Belgian Association of the Chocolate, Praline, Biscuit and Confectionary Industry: "Belgian chocolate is known and loved worldwide for its superior quality. For years, we have also been striving for more sustainability in the the complex cocoa chain. Thanks to the Beyond Chocolate initiative of Minister De Croo, we are making great strides forward. We are therefore proud to be able to sign this partnership in which all stakeholders work together to make the Belgian chocolate sector fully sustainable."
In addition to the Choprabisco sector federation, retail chains Delhaize, Aldi, Lidl, Carrefour and Colruyt Group committed also themselves for their own brands. Belgian universities, governmental and non-governmental organizations, impact investors and trade unions support the new partnership and will contribute in their own field to a sustainable Belgian chocolate.
The signing took place December 5th in Chocolate Nation in Antwerp, the largest Belgian chocolate museum and experience center in the world - where chocolate lovers will be able to learn all about chocolate from January 2019.