How do you recognize a Belgian abroad? They're the ones asking for mayonnaise with their meals—the French joke with slight disdain over their northern neighbors. Belgians, however, are rightly proud of their mayonnaise and other condiments that give meals an extra tasty, personal touch. An Caers, Marketing Manager for Continental Foods, and Charles Van Damme, Managing Director of Pauwels Sauces, cherish the devotion to craft that is.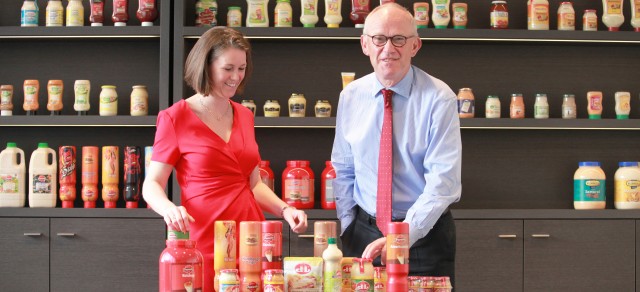 More than a Century of Experience
Continental Foods is home to the well-known brand Devos Lemmens. An Caers speaks tenderly about the love story between Henri Devos and Maria Lemmens. "He worked in a vinegar factory, she in a butcher shop in the center of Antwerp. He brought his vinegar on regular visits to the butcher and something gradually bloomed. In 1886, six years after their wedding, they founded Devos Lemmens, a company specialized in the handcrafted production of pickles and onions in vinegar. In 1920, the range was extended with mayonnaise and sauces. The rest is history. Call it a successful marriage."  
Charles Van Damme nods. His company, Pauwels Sauces, produces private label brands for the retail market in Belgium and other countries. The story of Pauwels also began under the shadow of Antwerp Our Lady's Cathedral over 100 years ago, too.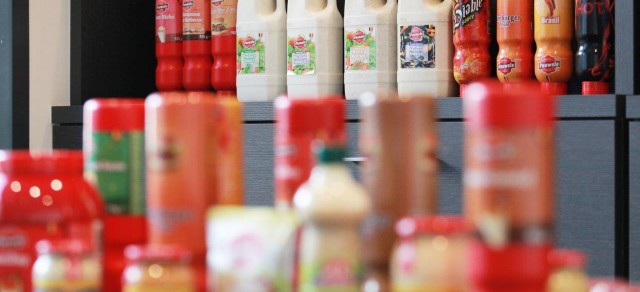 "Not surprising since a century ago everyone made their own sauce, especially mothers in the kitchen and frites shop owners; the butcher was looking for something spicy to serve with Filet Americain and the fishmonger made tartar sauce with pickled herring. We started in 1903 with the door-to-door delivery in buckets. Later, we industrialized the production of mayonnaise in our factory. In essence, we made it exactly the same, only faster and with greater hygiene."
Charles Van Damme shares the essence of sauce, "The art of the sauce is in the binding of oil to other ingredients like vinegar and lemon. Yolk is and remains an excellent binder, though we add oil and egg yolk alternatives for light products. Twelve laboratories oversee the process, because just like in mother's kitchen, it can go wrong here, too. Sometimes we add too much egg yolk which makes the sauce is too thick. It remains a delicate process."
Simply the Best
The Belgian is and remains the world's biggest consumer of mayonnaise to this day. Charles Van Damme has an obvious explanation, "Taste our mayonnaise! The quality is simply better and the flavor is richer than all the rest. The reason? We use 80% oil and 7.5% pure egg yolk. In most European countries, it's only 70% oil and 5% egg yolk. Our tradition teaches us that it is best not to skimp on essential ingredients. Otherwise, the true flavor is lost."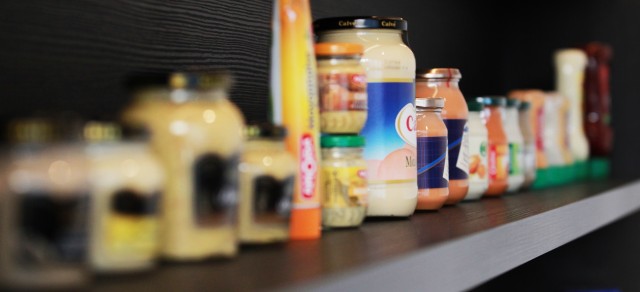 Given the tradition that every butcher, fishmonger or frites proprietor developed a unique special sauce, Belgium has an unprecedented wealth of flavors and varieties.  Next to mayonnaise, most Belgians have at least five or six other sauces in the refrigerator so that every meal on the table reflects personal taste. Even today consumers continue to look for variation in sauces. According to An Caers, producers play into that quest because, "Generally, consumers choose first what type of meal they want, and then the sauce to go with it. We constantly keep an eye on the ten most popular meals in Belgium. That's why we know more vegetables and less meat is being served. Of course, our range of flavors follows that evolution." Charles Van Damme adds: "We now have a whole range of flavors which you can add to prepared vegetables.  We want to give the flexitarian the royal treatment, too."
The inspiration for new sauces comes from all over, reports An Caers: "On the one hand, young amateur chefs provide fresh inspiration. They come knocking with an idea for a sauce and with enough demand to produce it on a large scale. There is so much creative sauce talent in our country! On the other hand, our R&D department has Belgian chefs who have invented sauces for many years. We have made sauces with great passion by and for Belgians resulting in a unique taste for 130 years!" 
Market Continues to Grow 
Inspiration for new sauces is always welcome. Not only because established users want to taste other flavors, but because new consumers and the market grow continually. Until ten years ago, you could only get mayonnaise, ketchup and mustard in France. That is changing rapidly. In Spain, Germany and Italy, where they traditionally love warm sauces, the typical Belgian sauces are taking hold. Charles Van Damme hopes to promote the typical Belgian variety of cold sauces in daily meals. "A very large percentage of our sauces are used to prepare sandwiches. Kebab restaurants are also important customers since we produce halal sauces. It does mean that after the production of cocktail sauce with whiskey, for example, our machines must be cleaned thoroughly. The Imam of the Grand Mosque of Paris inspects regularly. A rabbi from Antwerp conducts similar inspections for our sauces with a kosher certificate. For us this is not unusual; retailers often visit to see if we follow their rules. One inspection follows another. So it is inevitable that we deliver top quality for everyone."