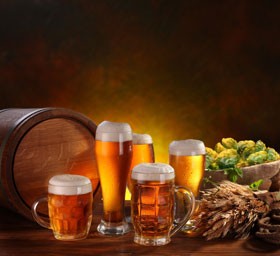 There is no doubt that Belgium is the country for beer. With its 150 breweries, ranging from small family breweries through medium-sized companies to big internationals, it offers a range of beers with highly contrasting tastes and flavours. Nowhere else in the world can you find a wider choice, with more than 1000 beers.
Thirst-quenching beers and special beers, bottle conditioned, light and strong beers, blond or amber-coloured, reddish and brown beers, fruity, bitter and sour beers; in other words the choice is endless, with beers to everyone's likings and for all occasions.
Belgium stands out with this unique and incomparable diversity. The intrinsic quality of its beers contributes to the country's reputation as a haven for gastronomic and culinary excellence. Beer has always been deeply rooted in Belgian culture - it is more than just a drink - and has been surrounded by traditions that are still alive today.