Beyers Koffie, the largest coffee roasting company in Belgium, is building a brand-new production and storage facility of no less than 3,100 square metres in Puurs-Sint-Amands. Thanks to the investment of 3.5 million euros, Beyers Koffie is creating 20 new jobs in the long term,  underlines its strong growth ambitions and continues to invest in sustainable coffee production. The symbolic first stone was laid in the presence of Flemish Minister-President Jan Jambon and Flemish Minister of Economy Hilde Crevits.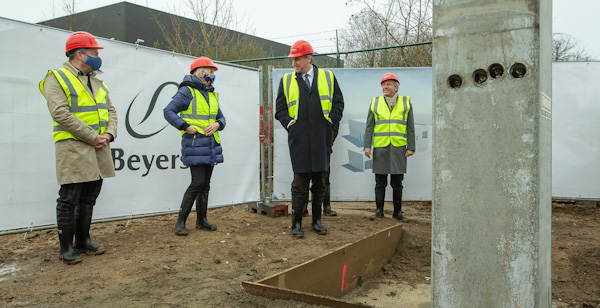 Over 3 billion cups of coffee annually
For anyone who regularly drives along the A12 motorway between Antwerp and Brussels, it is  a familiar experience: the delicious aroma of freshly roasted coffee when passing by Beyers Koffie in Puurs-Sint-Amands. But few people know that the coffee roasting company is also the largest one in Belgium and that no less than 90% of the coffee is destined for abroad.
Every year more than 22.000 tons of coffee beans are roasted, packaged and distributed worldwide, representing a total of more than 3.000.000.000 sustainable cups. Beyers makes coffee for the American e-commerce company Amazon and for retail chains such as Carrefour, Lidl, HEMA and Kruidvat, among others.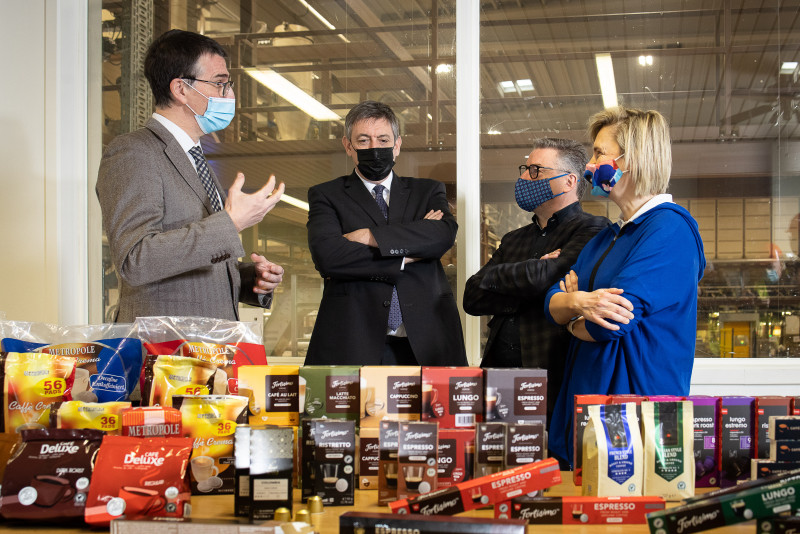 Responding faster to consumer needs
CEO of Beyers Koffie, Marco Ciaramelli: "We are seeing a strong evolution in coffee consumption worldwide, with consumers increasingly seeking for  high-quality coffee-solutions and demanding new formats, such as coffee capsules. With the expansion of our Belgian site , we want to be ready to meet all these demands and accelerate business growth.
This investment in the already state-of-the-art coffee roasting facility in Puurs-Sint-Amands will enable us to offer more coffee that meets our customers' needsand to work in an even more sustainable way."
 
Quality and sustainability first
Beyers Koffie was one of the first coffee roasters to join Max Havelaar Belgium in the late 1980s, now known as 'Fairtrade Belgium'. Despite their significant growth , Beyers Koffie has continued to focus on quality and sustainability. Today, more than 60% of their total volume of coffee is sustainable-certified. 
Moreover, the company continues to be a pioneer in the latest available technologies, for example with the introduction in 2020 of traceable coffee via Farmer Connect  – a tech start-up offering companies farm-to-consumer traceability solutions.
Continuously working on energy efficiency
For Koffie Beyers, corporate social responsibility goes beyond supporting coffee farmers or working with coffee plantations that take environmental concerns into account. Sustainability is also extended to the coffee production through measures such as efficient roasters with heat recovery, an in-house water purification installation, on-site production of nitrogen as conservation gas  extracted entirely out of the local air and  maximum use of sustainable packaging. Since 2009, the coffee roastery has been working for 100% with green energy, and all CO2 emissions generated by   coffee-roasting, heating the buildings and sanitary water, have been fully offset since 2014.