Since the Belgian ice-cream manufacturer IJsboerke was acquired in 2013 by Glacio, the brand has not let any opportunity slip to emphasise its Belgian traditional craftsmanship. On the contrary, it has put itself in the spotlight even more by choosing for co-branding with renowned traditional Belgian brands, such as Leonidas and Jules Destrooper. More recently, IJsboerke has engaged in a co-branding partnership with Chocolaterie Jacques to develop a very innovative ice-cream product.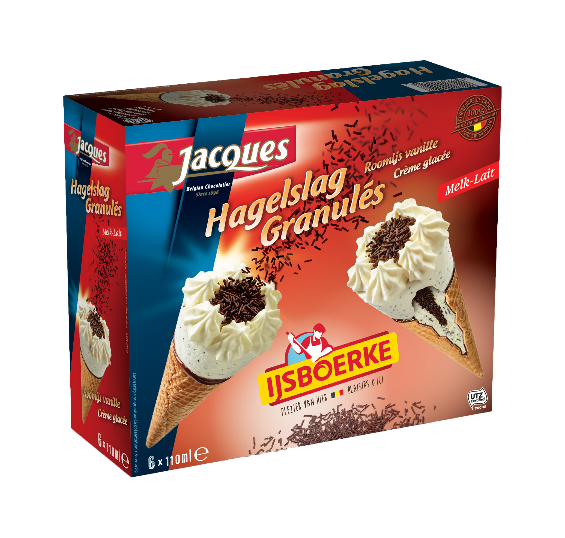 IJsboerke has been famous for the classic 2.5 liter ice-cream tubs. However, the bulk ice-cream market is stagnating and growth is now mainly driven by impulse purchasing. That's why Jef Segers, Commercial Manager of IJsboerke Benelux, decided it was time to embark on a new co-branding adventure and innovate with a very new product: an ice-cream cone filled with chocolate sprinkles.
What makes the product so innovative? The chocolate sprinkles are not only in the ice-cream but also inside the cone. Wondering why the chocolate chosen for the sprinkles is milk and not dark chocolate? IJsboerke has asked its consumers to choose for their preferred flavor and the majority chose for milk!
Chocolaterie Jacques quickly appeared as the partner of choice for the chocolate part of the co-branding story. Jef Segers: "It is an authentic and iconic Belgian brand with a passion for chocolate, that also turned 120 years in 2016. IJsboerke itself celebrated its 80 years of existence last year."
The partners were convinced that a collaboration would be a win for both. So it comes as no surprise that IJsboerke's co-branding philosophy is that "Belgian icons work together".
This co-branding is not IJsboerke's first experience. It all began in 2005 when the brand started to collaborate with popular companies, such as Studio 100, the TV production company, for the commercialization of ice-cream associated with characters like Maya the Bee, K3, etc. in the company's amusement park Plopsaland.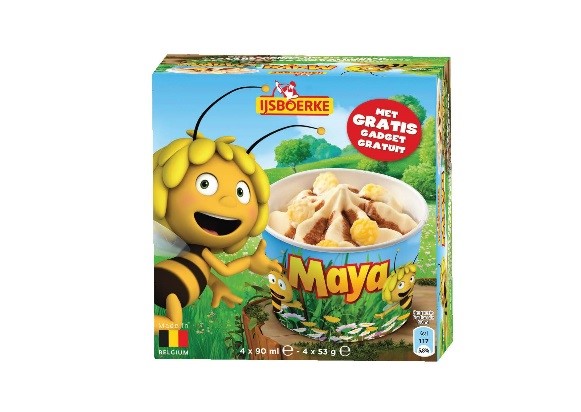 More collaborations have followed since then (e.g. VRT). In 2009, IJsboerke then partnered with the popular traditional brands Jules Destrooper and Leonidas to bring new innovative products on the market.
"Products made by our people with ingredients from here"
Jef Segers, Commercial Manager of IJsboerke Benelux
IJsboerke and the well-known biscuit manufacturer Jules Destrooper joined forces with "La Galette", a product made of IJsboerke ice-cream between two Jules butter waffles. IJsboerke went on with co-branding with Leonidas's famous white pralines: the "Manon Signature White & Milk" series, made of delicious ice-cream pralines on a stick with white or milk chocolate.
Peter Janssens, CEO of Glacio: "We are proud to offer unique and qualitative products to our consumers. Co-branding allows us to work together to bring very innovative products on the market that make a difference and boost our growth. And when we grow we can increase workforce."
This is another sweet Belgian success story to follow!