Time for a little chocolate quiz! Where was the very first praline invented? In Belgium, by Neuhaus. Where is the world's biggest chocolate factory located?  Again, in Belgium: the Callebaut factory in Wieze. Where do you find the most exquisite pralines today? You've guessed it: in Belgium. Belgian artisan chocolatiers, like Antoine Corné and David Maenhout, are on a daily quest for new delicacies based on the delightful product that is chocolate.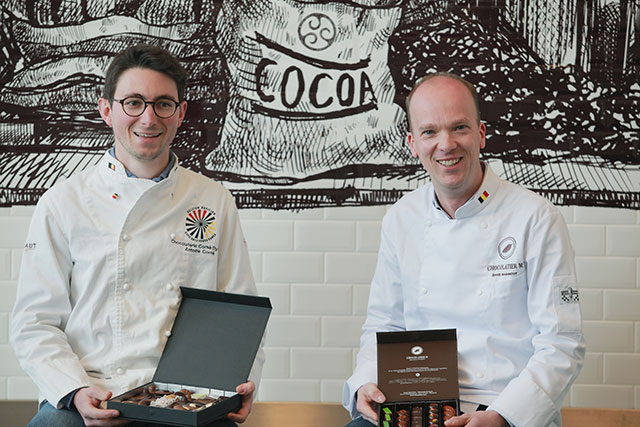 David Maenhout carefully unveils a beautiful box with five different pralines, neatly arranged in a row: a treat for the eyes. The real surprise however is in eating this little work of art: initial taste explosions of basil or balsamic vinegar, followed by the delicate sensation of chocolate. Admittedly, it were the Spanish who brought chocolate to Belgium in the 16th century, as was a common practise by conquerors in those times. To pacify the population, but also to send a message to neighbouring states that were not under their control; : look how well you could live under Spanish rule! The Belgians soon acquired a taste for chocolate and started experimenting with this foreign gift.  The story of Belgian chocolate is in many ways the story of Belgium itself: a small country that used foreign influences and added its own– often somewhat surrealistic – touch to it. That is why the know-how and love for the craft of chocolate making are deeply rooted in Belgium.
Antoine Corné is even part of a true chocolate dynasty. "My grandfather Maurice was the founder. For five years I have been working with my father. The taste, the aroma, but also the pleasure of being able to work with this top product day in day out; it's all just a splendid privilege.  I'm so pleased I have been able to follow in the footsteps of such craftsmen as my father and grandfather."
David Maenhout, chocolatier in Knokke-Heist, first gathered the necessary knowledge through evening classes and internships. It took him less than a year to make up his mind: I'm starting my own business. "From then on I actually learned a lot through self-study. By looking for original flavour combinations, beyond the traditional pralines and ganaches. There are little products that offer so many possibilities. Salt, sweet, sour: all of these tastes can be combined with chocolate. I tell you: I get a massive kick out of that!"
Fierce competition
It's no exaggeration to say that many of the best chocolatiers in the world all live in a tiny country in the heart of Europe. Chocolatier David considers that an enormous advantage: "In order to be creative and innovative you have to be able to be on top of the latest evolutions on the market. It's not that we copy each other, but we do stimulate each other off course. Competition here is fierce, so you need to find your niche. In my case that meant focussing on the more special kind of pralines. It's the only right choice: you have to stand out."
It's clear that having lots of know-how and competition on a small territory leads to excellent products. But Belgian chocolatiers have another huge asset: expertise centres like the Callebaut Chocolate Academy. Kris Dooms, chocolatier and project leader with Food.be, finds that the added value of having these expertise centres in Belgium cannot be overrated. "Chocolatiers have to evolve during their careers. Having a test centre nearby is invaluable to stay on top of the latest developments and to experiment. The current trend is: mixing single origin cacao with own blends."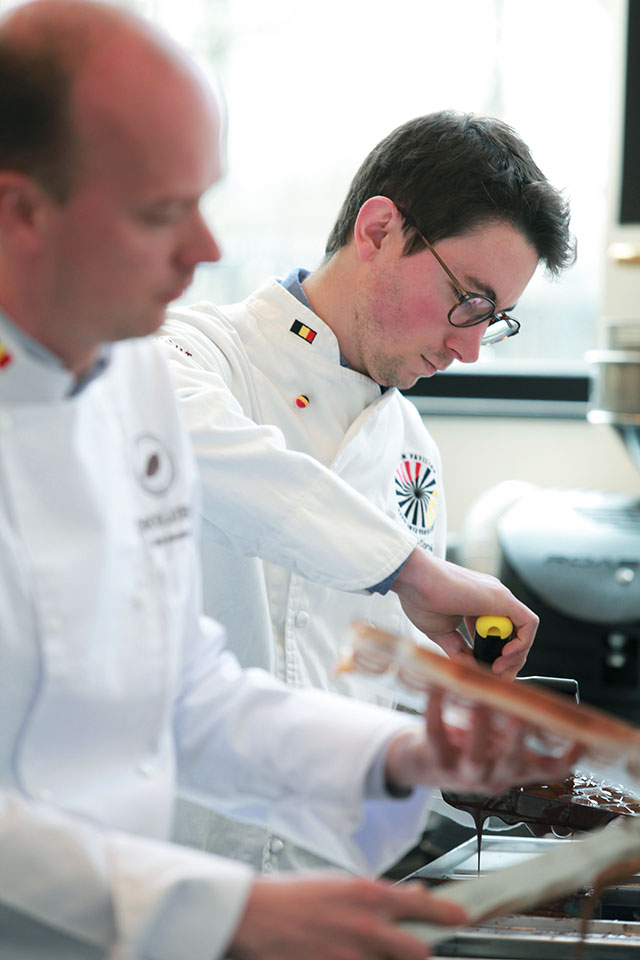 Being able to share these evolutions with colleagues is crucial. Even more so because making chocolate is becoming more and more complicated according to Kris Dooms.
"Callebaut has more than 3000 recipes containing white, milk or dark chocolate and a great number of tailor-made recipes. It requires a lot of craftsmanship to be able to distinguish between all these varieties. Computers and machines keep evolving all the time as well. Thanks to the expertise centre each chocolatier who wants to can get the right support and refine his craft. " 
Trial and error 
Chocolatier Antoine Corné feels that customers are becoming increasingly more demanding. "Therefore it is a blessing to be able to experiment with the basic product here. A client from Paris once asked me to develop a chocolate spread with pepper. Sometimes I try out that sort of thing, but often I honestly tell the client his demand is too extreme. The peppery chocolate spread didn't work out in the end, but later on we discover a kind of pink pepper from Tenerife, which combined wonderfully well with the chocolate in our pralines!"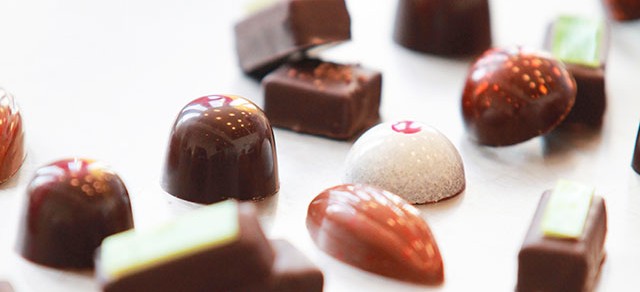 Chocolatier David admits he often dreams of new combinations. Sometimes a combination looks promising in his dream, but as the saying goes: the proof of the pudding is in the eating. "At a certain point I was convinced we had to capture the beauty of roses in a praline. There are so many sorts of roses. There had to be a match somewhere. Unfortunately, after a number of failed experiments, I know better. The sea-buckthorn berry, a small orange berry that grows in the dunes along the North Sea, on the other hand turned out to be a success against all odds. When you taste the natural berry, it is sour and off-putting. But if you patiently mix it with a bit of orange and a touch of pepper, you get a pleasant, fruity taste. It's a struggle sometimes. Nature doesn't always reveal its secrets immediately."
Testing our taste thresholds
Chocolatier Kris Dooms knows what a chocolatier's lovely fate is. "In fact you can no longer look, smell or taste without thinking: wouldn't that be a wonderful combination with chocolate? Not the worst of professional deformations if you ask me."
The three chocolatiers couldn't agree more: there are limits to combining. But they certainly do enjoy the freedom to experiment, within the thresholds of what consumers appreciate. Chocolatier David: "No matter how strange the combination, the end product always has to be tasty for the customer. Mustard in pralines for instance is a long shot. From the very first bite the flavour should be spot on! Sensation seeking and trying to shock may never prevail."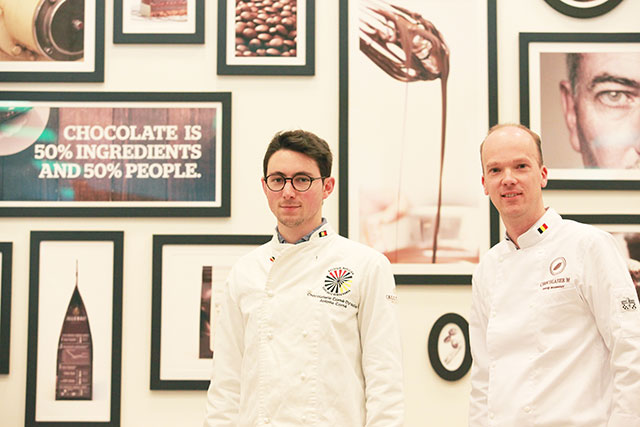 Antoine agrees. "The real challenge is in adding subtle nuance. These days, everybody makes pralines based on cuberdons (a sweet speciality from Ghent). But the real art is to distinguish yourself with subtle changes and to come forward with a unique flavour that pleases a broad audience."
According to Kris Dooms it is all about respecting the basic ingredients.  "Making the basic product better in a subtle way; that's how you show real love for your craft. Cacao beans are increasingly attributed with qualities that positively affect our health. That's a mystery that hasn't been unravelled so far: it will take at least another 100 years for chocolate to reveal all its secrets to us."