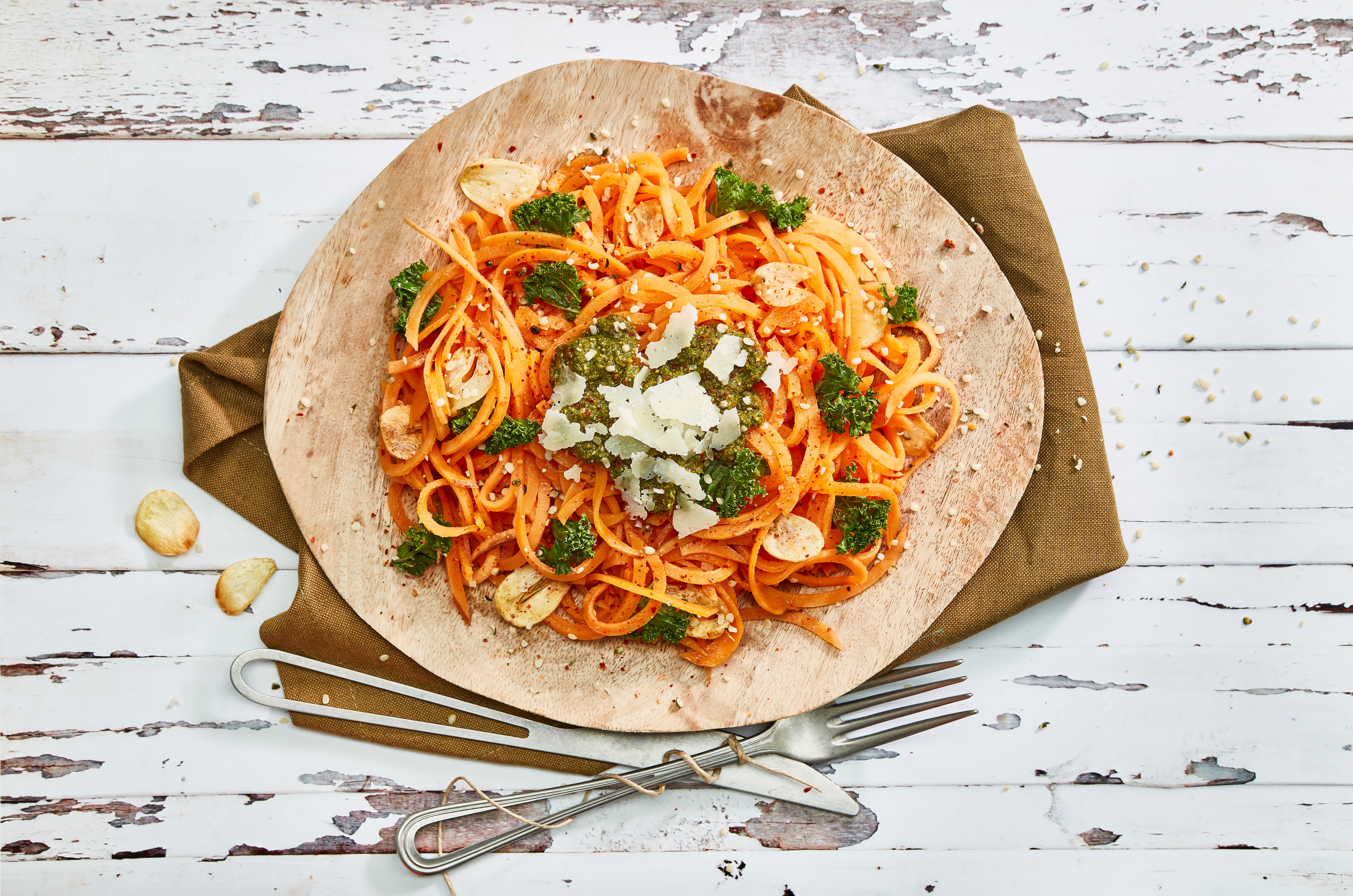 Making it easier and more pleasurable
Despite the rising trend for all things healthy, there is still a large gap between recommended levels and actual consumption of fruit and vegetables. Fruit and vegetables are not just good for our health; they are also a source of pleasure, offering a rich variety in taste and textures. Greenyard offers today's consumers a unique and wide range of fruit and vegetables, in any type and form. It is able to cater to the needs of any lifestyle, age group or consumption moment.
Greenyard's food experts follow new trends closely, and are constantly looking for new ways to delight and surprise consumers. Greenyard develops new products and concepts that reduce preparation times, without any compromise in taste or nutritional values. From easily portionable ready to use frozen smoothies to fresh vegetable spaghetti, consumers can count on Greenyard to make it easier and more pleasurable to enjoy fruit and vegetables every day.
We want to make lives healthier by helping people enjoy fruit and vegetables, at any moment, easy, fast, and pleasurable whilst fostering nature.
For a healthier future
Greenyard caters to the needs of a growing group of consumers that strive for a healthier diet, with the necessary vitamins, minerals and fibres. Its range of organic products is continuously expanding and Greenyard is continuously looking for ways to reduce the amount of salt, sugar and fat in its products to an absolute minimum. For people who want to reduce their meat or carb consumption or need to follow gluten-free diet, Greenyard is introducing vegetable-based alternatives. In terms of meat alternatives Greenyard offers for example pulses in a tasty sauce easy to use in a day-to-day meal, whereas frozen cauliflower rice has been developed for consumers looking to lower their intake of carbohydrates.
Fostering Nature
Greenyard depends upon nature for its products. Their 13 production facilities are located in the most fertile areas of Europe, right in the middle of the best growing regions. Greenyard uses all of its resources – and natural resources in particular – in the most sustainable manner possible. Reducing food waste across all of its activities is hereby an absolute priority. Its wide range of products, allows Greenyard to use different quality grades keeping residual waste to a minimum. In developing frozen cauliflower rice for example, Greenyard uses cauliflower roses which are too small for the regular cauliflower mixes.