Nathalie Vanhaver, a passionate cheese master of world class, tells you all you need to know about Belgian cheese.
How to compose a cheese platter?
For an interesting taste experience you ideally combine fresh, soft, semi-hard, blue-veined and hard cheeses, building up from soft to strong in taste. You should also take into account the different cheese families: from goat, sheep, white mold, cream cheese, semi-hard, to washed, hard and blue. Just a small bite or a main dish? Count about 250 g (8.8 oz) per person for a meal and feel free to choose from 7 to 8 cheese families. If you make a dessert platter, then 100-150 g (3.5 – 5.3 oz) per person is more than sufficient, depending on whether, in addition, sweets will be served afterwards. Maximum 5 pieces of cheese will do.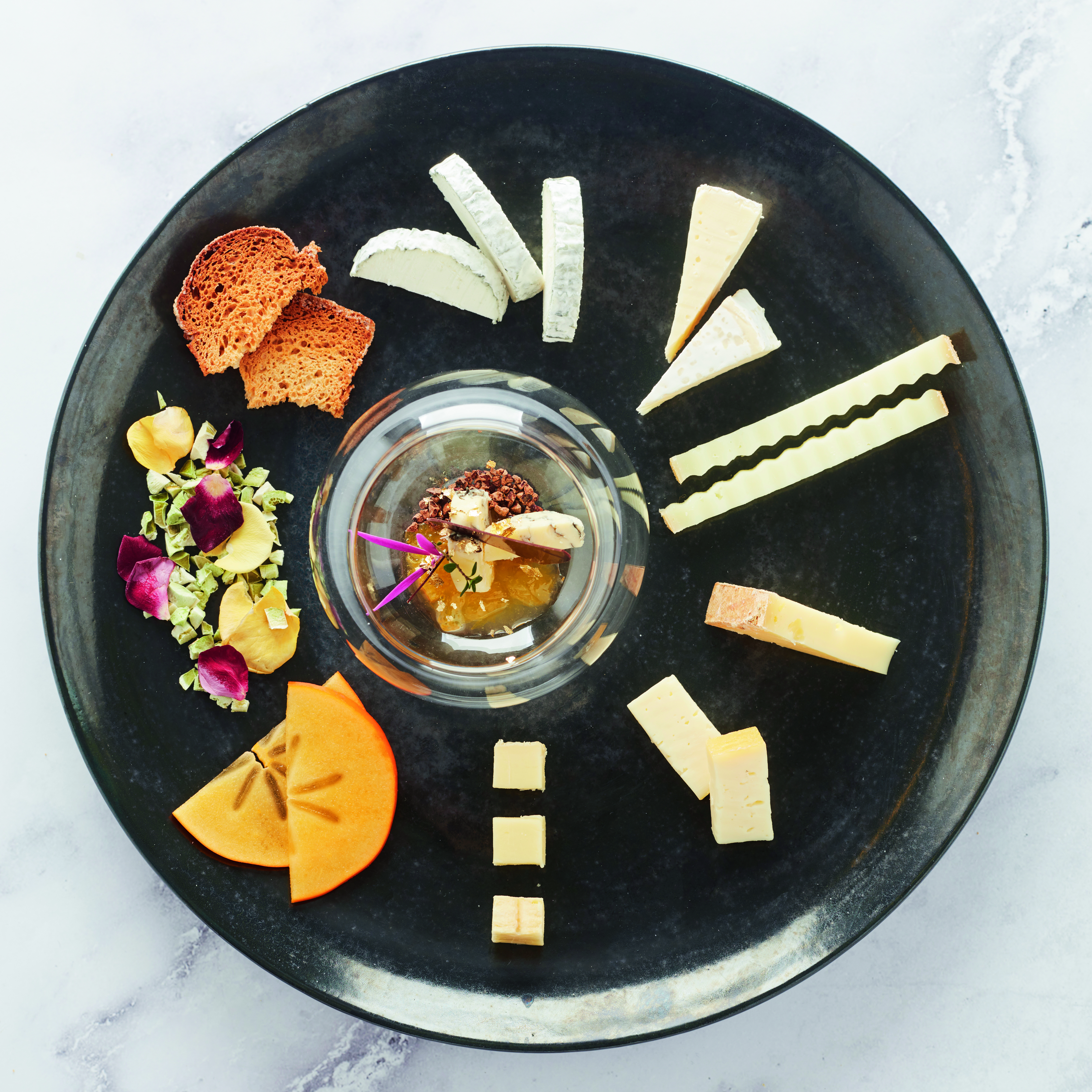 How to store cheese?
Cheese is a living product whose taste evolves. Temperature plays a major role. Cheeses should therefore be stored in the fridge or in the cellar. Make sure to cover the cheeses, otherwise they will dry or absorb flavours from other products. Also, do not place different cheese families under one dome. In order to render their full flavour, bring the cheeses to room temperature by taking them out half an hour to an hour before serving.
How to present a cheese platter?
Cheeses are available in all shapes and colours. By combining cheeses cut in different forms, you can make an interesting linear pattern. Round and square cheeses should be halved first, then cut in wedges (like a pie). Cylindrical cheeses are cut into slices and then in halves or triangles, according to taste. Flat, long cheeses are cut into triangles. Semi-hard and hard rectangular cheeses should be served in slices, cubes or sticks. Provide a separate knife for each cheese. This way you prevent flavours mingling
Sweet, salty and savoury garnish
Bread is fundamental when you serve cheese, because it neutralises and balances the strongest flavours. For example, crispy white bread to spread a ripe creamy cheese, nut bread for a soft blue cheese and a thick slice of farmer's bread for abbey cheese. Raisin bread is very tasty with more salty blue cheese or a firm old cheese. Nathalie serves refined Bruges rusks with her cheese platter. Nuts, grapes and raisins? Of course, but there is more. Fruit provides some fresh notes on the cheese platter as well as in the mouth. For example, fresh figs or an aromatic pear go perfectly well with blue cheese. The following are also nice and fresh: apple pieces, fresh tomatoes, radish, watercress, celery or cucumber. Also honey, mustard, pickles, gherkin and silver onions make a cheese dish swing and hard old cheeses love, for example, all kinds of chutneys. But also jams can also do the trick. Don't hesitate to experiment!
What drink to serve with cheese?
Why not a nice Belgian beer? Soft, creamy cheeses go well with light beers (lager, white beer, fruity and spicy beers). The lighter the cheese, the lighter the beer. To accompany cheeses with a strong flavour, go for the Trappist (double or triple), abbey beer or other specialty beers. White wine also goes particularly well with cheese. If you are a red wine lover, avoid too many tannins, because they weigh heavily on the taste experience of the cheese. And finally, don't forget tea, either green or black, which harmoniously complement a cheese tasting.
This article is an abstract from the book ".be our guest. The ambassadors of Belgian hospitality".