Who says Easter, says chocolate. For the youngest ones, a fun search for chocolate Easter eggs cannot be missed. Luckily, the Milka factory of Mondelez in Herentals ensures that the Easter bunny has more than enough Milka Easter eggs. Annick Verdegem, spokesperson for Mondelez: "This year, our chocolate factory produced 245 million small chocolate eggs. The white Easter eggs are particularly popular."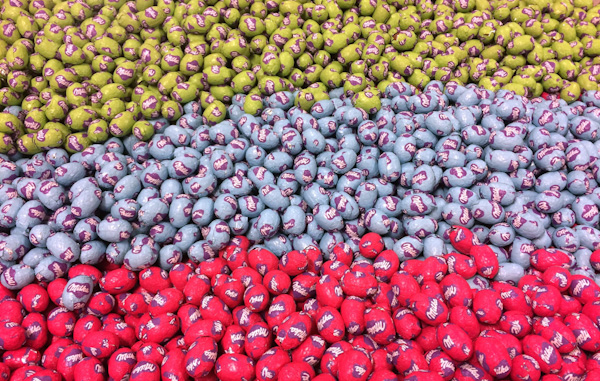 A drop in production
Are you planning an Easter egg hunt for the Easter holidays as well? Chances are that those Easter eggs were produced by Milka, the Belgian market leader in chocolate Easter eggs. Nevertheless, the current measures against the coronavirus is effecting Milka: "This year, the large Easter treasure hunts have to make place for treasure hunts in small committees. That probably explains why we have seen a decrease in the production of our Easter eggs", says spokesperson Annick Verdegem. 
Despite the decrease, Milka still produced 2,030 tonnes of eggs for this Easter season, which comes down to approximately 245 million Easter eggs. 43% of that production is destined to fill Belgian mouths, followed by French (34%) and German (11%) chocolate lovers. 
White chocolate beats milk chocolate
In total, Milka produces Easter eggs in nine different flavours. We asked Annick which flavours are in favour: "For years, it was milk chocolate, but white chocolate has taken over the throne. The crispy milk praline and Oreo-flavoured eggs complete the top three. 
Are you curious how Milka's Easter eggs are made? Find out in the video below!