Spadel, a regional water producer and employer in our neighbouring countries, is investing 2.6 million euros in its Spa Monopole plant for the installation of a new production line. The natural mineral water is now also available in 'Eco Packs': 5-litre carton packs with the water kept inside a bag fitted with a a small tap. The new packaging comes with a raft of benefits: it is recyclable, more eco-friendly and ensures the quality of the mineral water.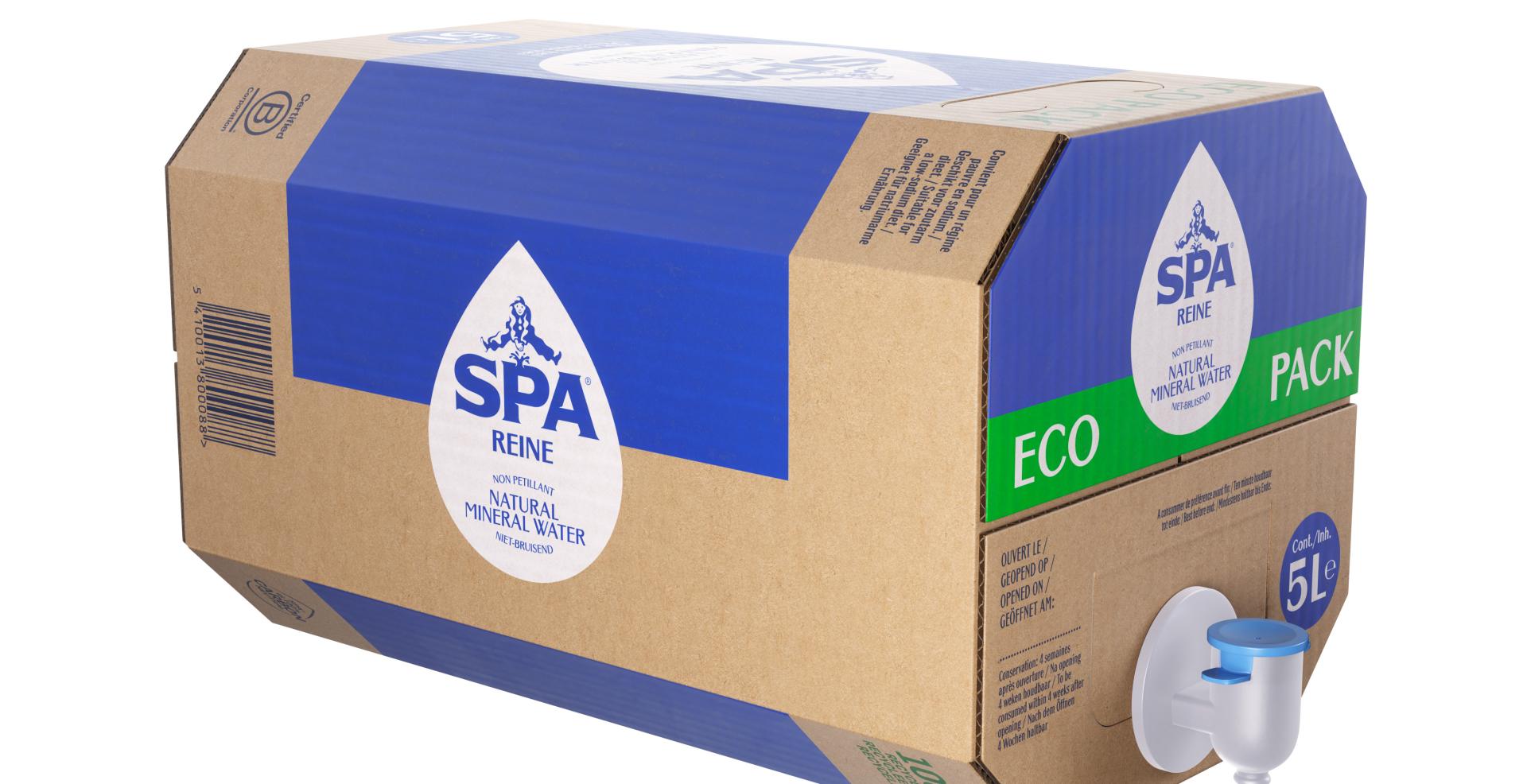 Less plastic, a reduced footprint and 100% recyclable 
Every day, Belgian food companies work hard to sustainably manage their packaging. Spadel has formally committed to only use plastic bottles plastic bottles made from 100% recycled and 100% recyclable plastic by 2025. Now, the company is launching a new type of type packaging unit.
The new packaging drives down the amount of plastic by 65% per litre of water compared to a 6-plastic bottle pack. This packaging also reduces the ecological footprint in terms of logistics, as the Eco Pack is lighter and easier for people to take home from the shop and store in their pantry. The carbon footprint of this type of packaging is almost 40% less per litre of water than a crate of 6 glass deposit return bottles.
What is more, the Eco Packs are 100% recyclable: once empty, you simply take out the pliable plastic bag from the box and deposit into the blue PMC bin liner, along with the other PMC waste, whereas the carton box itself is fully recyclable.
Carbon footprint down by 15% 
The Eco Pack is not only eco-friendly and practical, needless to say it also ensures the quality of the SPA Reine natural mineral is protected. To Spadel, this consideration was a matter of top priority in designing the new packaging.
"The ambition to constantly deliver new innovations is hard-wired into Spadel's DNA. In a fast changing market environment, it is imperative that we constantly adapt our products to the latest consumer trends," Spadel Group CEO Marc du Bois stresses. "Spadel is fully aware of the impact packaging has on the environment. We are keen to play a leading role in driving down this impact.
In addition, I am delighted to find that the efforts we have made in recent years in this respect are paying dividends. In spite of a 21 % increase in volume since 2010, we have managed to reduce our absolute carbon footprint by 15 % over the same time period."